Years ago, all work done digitally was conducted on a computer, and mobile phones were only used when necessary. Recently, this has not been the case. As phones got smarter, more people started using these devices for work as well as in their daily lives. Every year, smartphone companies release new and improved models, updating everything from the CPU to the quality of the camera. New features are also being released constantly that allow for more ways to use your smartphone. Now that phones can do almost anything your standard laptop can, it is more convenient for people to use the computer in their pocket than the one that's stuck at home. Statistics show that in the U.S, there are now more smartphone users than there are for PCs, tablets, or any other device. However, 80%* of this time spent using the phone for mobile apps, with the remainder of this time used browsing the internet.  With a constantly growing market for mobile media and 85%** of consumers favouring apps over mobile websites, we are going to see apps grow and change at a rate like never before.
Though some businesses can grow with just a website, it is undeniable that many have found success through mobile apps. Companies like Ikea, Chipotle, Starbucks, and countless others have all seen sales increase drastically after they introduced apps for their companies. This success can be attributed to their introduction of features that hadn't been done before, such as Ikea's virtual catalogue that lets you project 3D rendered furniture through your phone's camera. Unlike a website, using a mobile app is direct. Push notifications allow for instant connection with the user, which is less annoying and more effective than signing up for mailing lists. Notifications can get customers involved with your business, and can be more effective if they are personalized. This idea of personalization is another feature that mobile apps do better than many websites, since a phone belongs to only one person. Instead of signing up with an email address, most mobile apps these days can create an account from your phone number, making it much simpler for the user to begin using all of the features offered. Then, as the app gains more information about the person using it, it can find more effective and personal ways of reaching out to the user (such as referring to them by-name, or advertising based on past purchases.) Not only does this help you build a brand, but it helps that brand stick with its consumers.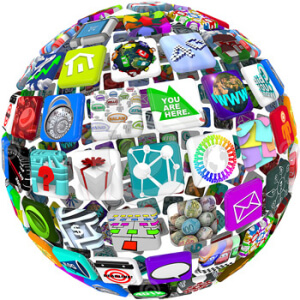 Location based features have been growing in popularity recently, simply because it makes connecting with the world around you easier. Apps such as Yik Yak and Twitter have begun organizing their content by proximity, meaning users can read material all generated locally. Shops can even send out push notifications for special offers if they see you are within walking distance. If you want to go out to eat tonight, there are numerous mobile apps that can recommend you a restaurant based on where you are and what you like. Some apps, such as OpenTable, even allow for the user to schedule a reservation without having to make a call. Movie and concert tickets can be ordered and scanned through mobile apps, hotel reservations can be made based on your price range and location, and one can even fly across the world without having to touch a computer. The combination of GPS and scheduling services has recently started to take off, and will continue to expand as more apps are developed.
So in what direction are mobile apps heading? Here's a look at some features that are currently on the rise:
Object recognition: This is already a part of many operating systems, such as Apple's Face Recognition feature. QR codes are becoming popular as well, digitally connecting people to the world around them. As this feature becomes more and more intricate, we will start to see new apps that help bridge the digital and real worlds.
mCommerce: Stores are beginning to accept Apple Pay and other forms of digital payment, making it easy for customers to get through the check-out line without having to find their credit card. Most banking can also be done through a phone, even allowing you to scan a check with it's built in camera. This, along with mobile shopping apps, mobile ticketing, and rewards cards, are going to help your phone become your next wallet.
Video: Once upon a time videos were not welcome on mobile devices, as they we're often slow or incompatible. Recently these issues have become much less of an issue, as apps like Facebook and Instagram have found ways to make videos play seamlessly and in high definition. It is very likely that we will start to see this trend continue to grow as more phones become capable of handling HD video.
More personalization: Many mobile apps use other apps such as Facebook to sign up for their services. This connection to social media allows the application to personalize your experience, but it is only limited to how much you use Facebook. It is predicted that as more apps connect with each other, the more information they will share. Eventually, users won't have to fill out any information about themselves because their phones will already know it.
As technology changes and expands, the internet evolves with it. Right now, the internet is something we pull information from. We seek information, and then pull it from the website that was searched for. These "pulls" are sometimes in the form of a question that is searched through Google, and the engine then links you to websites that have the answers. Currently, we are experiencing the start of a push generation. This form of obtaining media is when the information comes to you without needing to ask for it, through mediums such as social media and applications. Users can "push" the things they want to view (found on newsfeeds, notifications, etc.), rather than have to search for them. This change in the way people are viewing the internet is occurring rapidly, and it's altering what devices are being used as well. A computer does not allow for the same amount of "push" functionality as a phone, making it more convenient for a person to view media mobily. Applications, alongside websites, are the best way for any business to offer both pull and push methods of reaching out to their customers. So when designing a digital strategy for your company, consider this evolution and how pushing your media through mobile apps can be more effective than simply waiting to get pulled.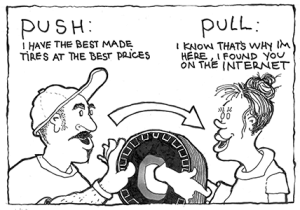 Written by Joe Vassar
*https://www.smartinsights.com/mobile-marketing/mobile-marketing-analytics/mobile-marketing-statistics/
**https://econsultancy.com/blog/62326-85-of-consumers-favour-apps-over-mobile-websites/
https://cdixon.org/2014/12/21/two-eras-of-the-internet-pull-and-push/
https://www.wired.com/2015/02/smartphone-only-computer/
https://www.forbes.com/sites/allbusiness/2014/11/17/heres-why-your-business-needs-its-own-mobile-app/