Dental Innovations From Around The World
Family owned and operated, Hager Worldwide takes pride in providing quality dental products to dental professionals around the globe. In the fast-paced industry of technology, Hager uses it's global resources to develop innovative ideas that bring their customers products that increase profitability. 
Intuitive Organization of Online Products
Integrated Product Search
Content Restructuring for Improved Overall User Experience
Drive Buying Decisions Further with Supportive Product Information
Improved Product Organization and Searchability
A dropdown megamenu organized by product categories and subcategories allows users to easy see all available products and find the product they are looking for.
A clear call to action for searching products placed on the home page and an additional search in the navigation menu of internal pages directs users to the searchbar when they can't find what they are looking for on their own.
If the sales reps or purchasers don't know the exact name of the product they want to find, they can search by SKU or keyword instead.
Product Resources and Supportive Documentation
If a customer is on the fence about purchasing a product, or would like to research what makes Hager products better than the competition, they can easily do so with the variety of resources available on the site.
Sales reps can easily showcase use cases and other product information to potential buyers with the videos and PDF that are readily available on the site.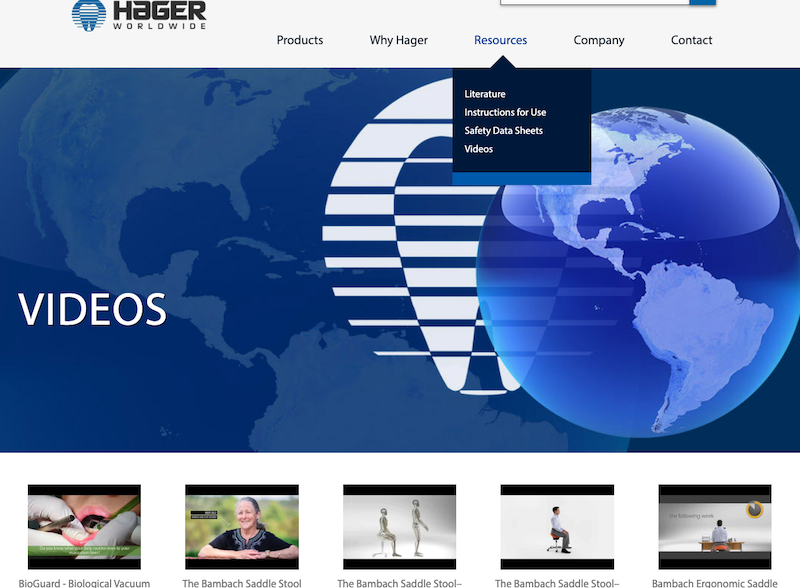 Content Clarity and Restructuring
Restructured content for a cleaner look and more user-centered experience to bring the site up to modern standards and provide visitors with an improved user experience.
Strategic placement and highlighting of important features, such as Product Search, Featured Products, and affiliate services (Bull Frog Motor Repair) help guide the users through the site.
What Our Clients Are Saying
Our user base has doubled since working with them, and with the new initiatives we're launching we anticipate triple-digit growth again next year.
Andrew Jacobson
1800 MD