Website Design / Branding
City Home is a highly reputable vendor of vintage, reclaimed, mid-century modern and industrial home furnishings. Located in Portland, OR, City Home's curated collection features rare, aged, and refurbished decor. Our task was to design a showcase website and online shop that would provide an intuitive and appropriately styled user experience.
An Online Shop with Product Collections
Inquiry Forms Connected to Email Campaigns
Easy to Update Products and Categories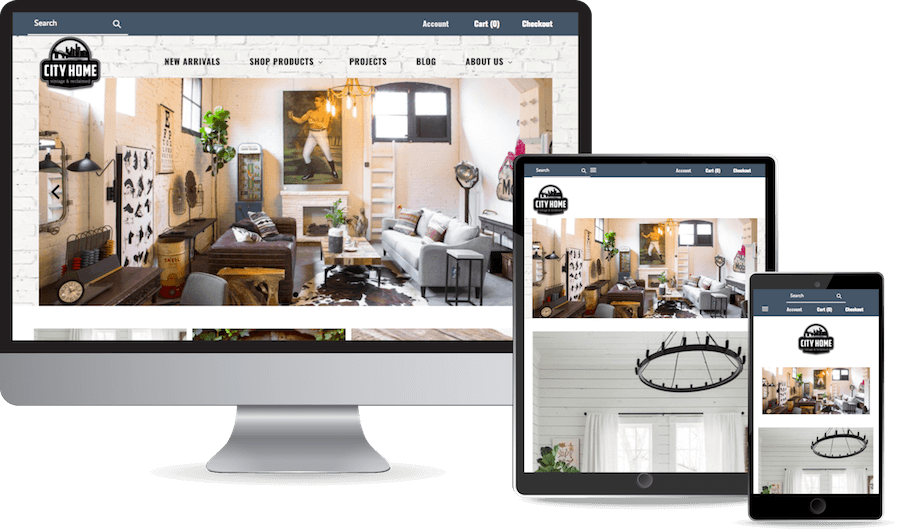 Product Templates

Designed and developed a robust set of templates that can be quickly replicated and updated for efficient development and easy upkeep. With an easy to navigate site containing structure and styles adhering to company branding, excellent web presence is achieved remarkably fast and effectively. 
Shopify eCommerce

Shopify's intuitive interface and comprehensive coverage of user/admin needs makes it the perfect tool to handle on-site shopping. Managing everything from marketing and payments to secure checkout and shipping, Shopify quickly becomes the clients' one stop shop.
Deliberate Design

Shopify is a powerful tool but without a strong and carefully considered design, its potential remains unrealized. We focused on the outcome and designed the online store with the user in mind. Form follows function, or at least it should. 
"Greenstone Media has been an amazing partner in the management of our hosting services and website.  They approach each new project and request for adjustment with our true best interest in mind. For example, upon reviewing the hosting configuration set up by an alternate vendor for parkridgehealth.org, Greenstone was able to reduce our hosting fee by half, saving us $400 monthly or $4,800 annually.  Also, the service level of this company is phenomenal!!!!!  Greenstone responds to and resolves our many requests within 24 to 48 hours of communication and keeps us informed every step of the way.  Greenstone is your best bet for web services in Western North Carolina."
Jennifer Roberts
Park Ridge Hospital
"We hired Greenstone Media to develop an integrated website and online report center. We found them to be professional, creative, efficient, and reliable. I would definitely use them again!"
Rhonda Harper
Penrose Senior Care Auditors
"We loved working with the creative talents of Greenstone Agency and Nathan Silsbee in re-design of our Bend of Ivy Lodge website! Greenstone was knowledgeable, creative and responsive. Our website launch was successful, tested and on-time. Thanks, Nathan and Greenstone!"
Susan Walters
Bend of Ivy Lodge
"Working with Greenstone Media has been easier than I could have ever anticipated. Branding was quite daunting for me and I was struggling in developing an image and website to define my company. I knew what type of style I wanted but couldn't communicate an actual image to build from. I was smitten with the first creative provided to me and couldn't believe how well my vague desires had been illustrated in a logo. I was also thankful that my minor edits were welcomed and encouraged to insure complete satisfaction. Greenstone is an approachable "one-stop shop" for my creative and website needs that I am delighted to have a working relationship with."
Alisia Parrott
Everyday Gourmet Catering
"Chase and the Greenstone Team did an outstanding job. He is extremely responsive and always put our best interests first. In our opinion Chase has proven himself to be completely honest and has the highest integrity"
Ray Garruto
REEL EZ Boat Cover