At Grain, they're elevating the beer garden concept, all the way to the roof of the Hilton Norfolk The Main to be exact. With over 80 beers on tap, this rooftop lounge brings the indoors out and the outdoors in with an open air patio and fire pit set against spectacular views of the Elizabeth River. With live music and events, we needed to tailor an informative design to attract and direct the beer-hungry and fun-loving clientele of both Norfolk's visitors and locals.
A Restaurant Portfolio for Showcasing Menus and Services
Subscription Forms to Keep Patrons Up-to-Date with Email Campaigns
Eventbrite Integration for Simple Event Planning and Ticketing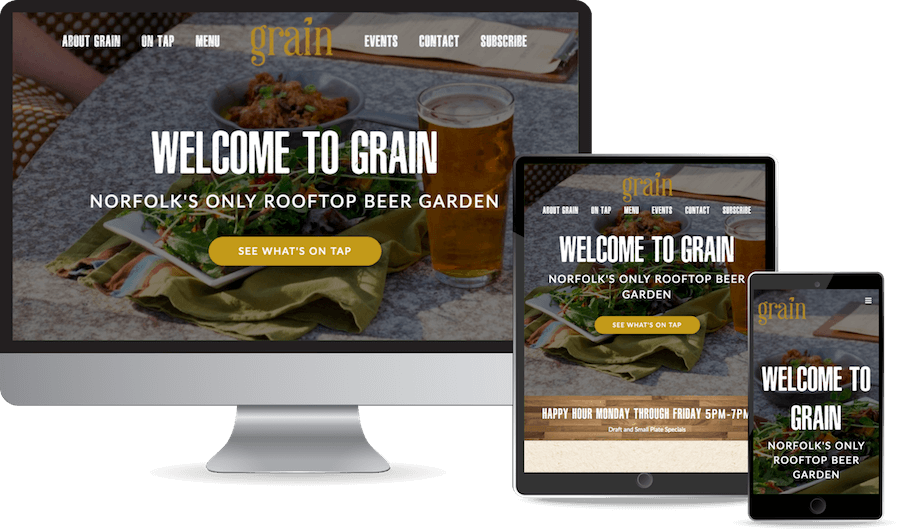 Template Design

Designed and developed page and menu templates that are easy to duplicate and update for new scenarios. Included associated forms, image galleries, and third party modules and trained client on how to implement desired changes.
3rd Party Integration

From event registration to reservations, there is a suite of powerful tools that exists. Research is the best route to success, so when we find a tool that works well, our clients win.  With Mailchimp Email Campaigns, Eventbrite and Dine-time integrations, why reinvent the wheel?
WordPress Powered

WordPress was our website platform of choice for its out-of-box SEO rankings, ease of updates and theme customization. WordPress takes the final product out of the hands of the developers and allows the clients to update and maintain their sites with minimal training.

"Our user base has doubled since working with them, and with the new initiatives we're launching we anticipate triple-digit growth again next year."
Andrew Jacobson
1800MD
"Greenstone Media has been an amazing partner.  They approach each new project and request for adjustment with our true best interest in mind. The service level of this company is phenomenal,  Greenstone responds to and resolves our many requests within 24 to 48 hours of communication and keeps us informed every step of the way.  Greenstone is your best bet for web services in Western North Carolina."
Jennifer Roberts
Park Ridge Hospital
"We hired Greenstone Media to develop an integrated website and online report center. We found them to be professional, creative, efficient, and reliable. I would definitely use them again!"
Rhonda Harper
Penrose Senior Care Auditors