If you read our recent blog, "Why You Should Switch To HubSpot", you know that HubSpot is the go-to CRM for growing your business. In this blog, we'll be talking about how Hubspot can increase your bottom line and bring you the results you've always wanted from your marketing dollar. A lot of companies find their marketing efforts to be a complete waste of money. It doesn't have to be that way. HubSpot is the intuitive, robust software that is helping tens of thousands of companies increase revenue.
Money Wasted on Marketing
For most companies, when you ask them what their marketing dollar is doing for them, they can't really tell you. The C-suite hasn't seen any data that points to positive ROI on their marketing efforts. But they just keep spending, hoping one day their marketing dollar will finally connect with the audience they want to turn into customers. Unfortunately, outspending the competition doesn't lead to more business. Companies that want to stop wasting money on digital marketing need a proven plan and a platform to run it on. Enter HubSpot.
Inbound Marketing
The statistic that should drive your digital marketing efforts is this: It takes 6-8 interactions with your brand for a visitor to become a customer. Let that statistic determine how and what you spend as you look to increase revenue with digital marketing. The brilliant thing about inbound marketing (made popular by HubSpot) is this: it ensures you provide the right information at the right time so visitors become customers. This is accomplished through blogs, e-books, social media, and email campaigns. Think about it—there's a journey that your audience is on to get to your product. They need content that makes them aware of their problem and then nurtures them toward a decision.
Want to know more about inbound marketing and how it increases your bottom line? Check this out. 
Digital Marketing for Revenue Growth is a Long Game
The biggest reason why companies waste lots of money on digital marketing? They buy into the lie that digital marketing is supposed to yield quick results. While there are quick fixes that can bring in immediate customers, most marketing efforts require patience and persistence. Digital marketing (especially if your company hasn't been doing it well) is more like gardening—in the dead of winter. First, you spend money getting the right processes in place. Then, you make the effort of nurturing leads until they become customers. HubSpot helps you increase your bottom line because it puts all your marketing efforts onto one platform, and then shows you how to unify those efforts into revenue growth. Here's a screenshot of the HubSpot marketing dashboard. Imagine as a business owner having the ability to see how your marketing dollar is doing.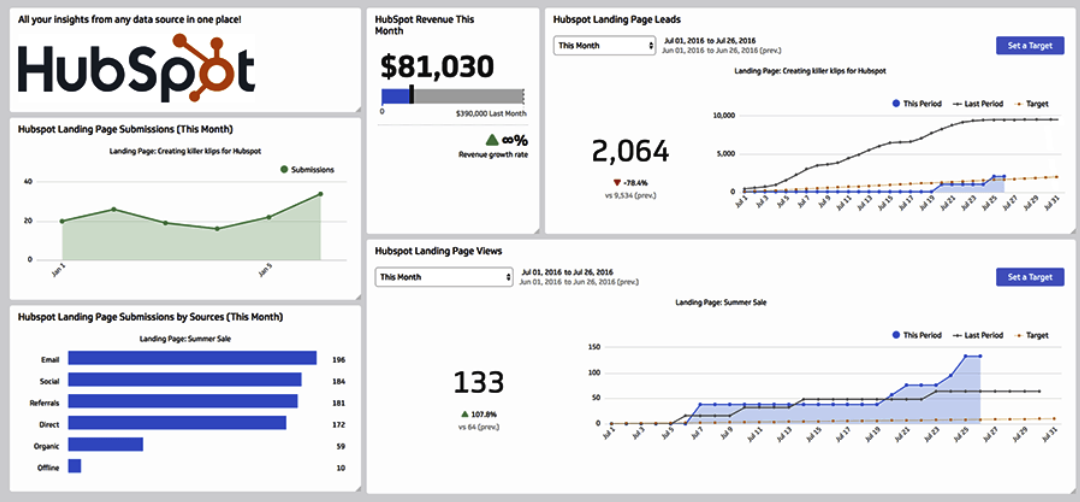 Case Studies
One of our favorite things about HubSpot is the 300+ industry-specific case studies they have made available for the public. It's now easier than ever to find your industry and see how companies just like you have increased their bottom line by utilizing HubSpot. Find out how HubSpot helps companies in your industry increase leads, decrease costs per lead, strengthen their narrative, and, finally, increase revenue.
The Takeaway
It can be an incredibly daunting task to spearhead digital marketing at your company. At the very least, you deserve an intuitive CRM that helps you unify your marketing efforts toward revenue growth. Effective digital marketing, is, in the end, a long game. It requires the patience and persistence one would need to create valuable content for every stage of the buyer's journey. Fortunately, we find this thread to be true: people go online and research their way to the right product or service. HubSpot helps you meet those people with the right information so when it is time for them to choose a solution—they choose you.