Can a website redesign affect your business's success?
When your website becomes a barrier to entry instead of a help to your customer, the answer is yes. A good website redesign can transform your website from a confusing cluster of links into a clean, eye-catching lead generator that brings in new customers.
Here's how Baron Weather's partnership with Greenstone Media brought their website from confusing to clear.
About Baron Weather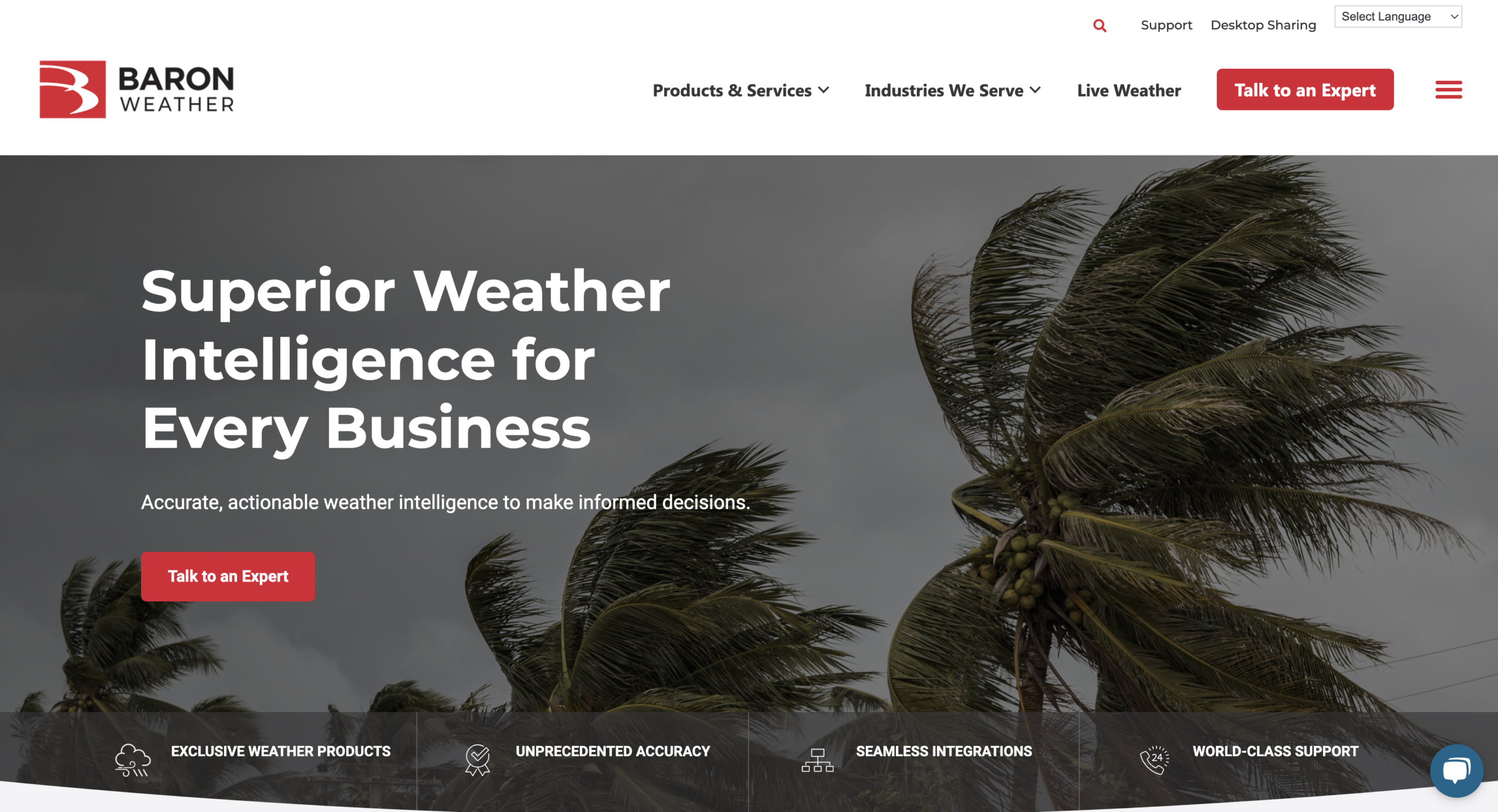 Having precise weather information is something that many industries need to function optimally, and Baron Weather is the company that these industries depend on.
When it comes to superior weather intelligence, Baron does it best. Their weather solutions are accurate, actionable, and precise, serving you with the information you need to make educated, logical decisions about how to move forward. Because they use the most advanced technology available, they are the company that industries know they can rely on.
Partnership with Greenstone Media
Baron Weather values dependability and accuracy, which is something that they must communicate to their customers. But, with their old website, they couldn't communicate effectively.
At Greenstone Media, our mission is to ensure that your website accurately reflects your business, so we were excited to get to work on revamping Baron's site.
A Website Redesign for Clarity & Conversions
Baron Weather's solution was complex and layered because they serve a multitude of industries in a myriad of ways. But, even though their solutions were intricate, that doesn't mean the language on their website had to be. We went through and clarified everything, walking through each step with their team to make sure we got it right.
Accessibility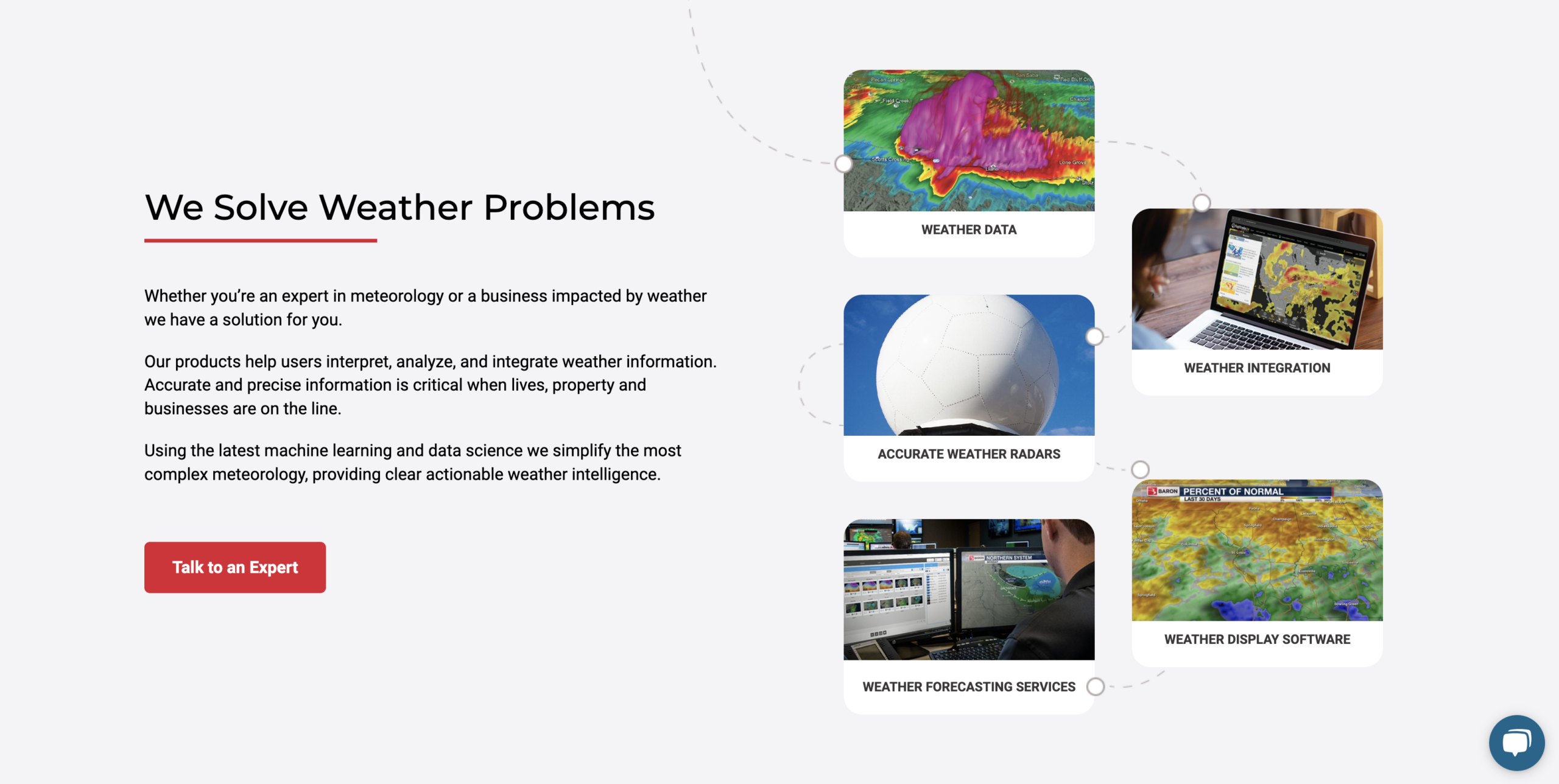 We know how important accessibility is, and we wanted Baron's site to be accessible and palatable for their customers. We transformed the language from jargon-filled copy to something concise and straightforward, which positively impacted the site and made it more welcoming to those curious about Baron's services.
For more help with website optimization, check out our vlog for video resources on making your website work for you!
Reliability
Clarity isn't all that's important with Baron Weather. We also wanted to communicate, through their website, that they are a trusted leader in their industry, and that their solutions are what their customers need to solve their problems.
Reliability is a key aspect of customer communication. Your customer has to know that you're an authority in your field and you're willing to act as a guide to help them achieve their goals. Luckily, Greenstone Media has experience in effective storytelling and helped Baron's new site clearly show that working with Baron will benefit the customer.
For more information on how to tell a compelling, clear story that turns visitors into customers, check out our storytelling ebook.
Lead Generation
On the homepage, you'll find a lead generator that does the work of capturing leads. Having prominent and eye-catching lead generators makes it as easy as possible for website visitors to click through and fill out their information. Placing lead generators further down on the webpage increases the likelihood of losing potential leads, so we were careful to place several lead generator points near the top of the homepage.
From there, we set up automated sales and nurture campaigns to convert those leads into happy customers. We're very pleased with how Baron Weather's website turned out – check it out for yourself to see what you think!
Greenstone Media Can Help Transform Your Website!
If it's been over a year since your company's website was last updated, it's time for a refresh. Greenstone Media can walk you through effective digital communication, and design a website that generates leads and informs customers with ease.
Ready to get started? Reach out to Greenstone Media today, and we'll schedule a call to get you on track.