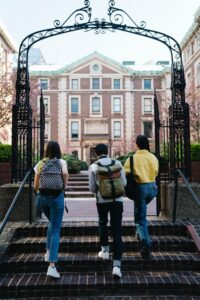 As a higher education marketing agency, Greenstone Media is here to help your institution reach students.
Here's how enrollment marketing can unlock success for you and your students in the Spring semester.
Greenstone Media's Enrollment Marketing Blueprint
Greenstone Media offers an enrollment marketing framework for all of its higher education partners. There are three major steps: the audit, the strengths, and the strategy.
The Audit: The first thing that happens when you partner with Greenstone Media is an audit of your current efforts and assets. We examine emails, social media posts, and paid ads, as well as your website and overall messaging.
The Strengths: Once the audit is complete, we'll go over your current strengths that your marketing should capitalize on, and the areas that need improvement in order to retain leads.
The Strategy: Once we know all of the details of your current marketing strategy, we'll design a strategy so you know where to focus your budget and marketing efforts for maximum ROI.
Greenstone Media provides an array of marketing solutions, but all of them are built upon the StoryBrand framework, a method of connecting to your audience by focusing on their problems and how your business can solve them. In the case of higher ed marketing, this means that we address potential students' desires for the future, and show them how your program can give them the tools they need to succeed.
Our higher education marketing toolbox includes copywriting, sales funnel creation, email marketing, website development, and much, much more.
Higher Ed Marketing: Chattanooga College Case Study
Greenstone Media provides messaging and branding packages that attract potential students' attention, and designs enrollment funnels that take students from 'curious' to 'convinced'.
In a case study with Chattanooga College, Greenstone Media assessed their current marketing efforts and identified the holes where leads were being lost. Greenstone designed a sales funnel that worked and messaging that connected with students, and the transformation speaks for itself.
With Greenstone Media, Chattanooga College went from 40 leads per month to over 300 leads per month.
Schedule a Demo Today!
Enrollment marketing is all about meeting students where they are at, just like teaching is. Teachers design classes to set their students up for success, and marketing agencies design strategies to get those students in the classroom.
If you are ready to unlock success for your school and increase your enrollment in the Spring semester, then contact us to schedule a demo today!