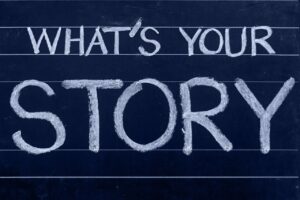 If you are looking for a way to take your marketing strategy to the next level, you've heard of StoryBrand. StoryBrand is the brand marketing tool behind successful companies like Google, Pepsi, and Mastercard, and it can lead to transformed customer engagement and success.
But once you've decided to implement the StoryBrand framework, how do you start? Once we review what StoryBrand can do for your business, we'll go over exactly how to find and partner with the StoryBrand Guide that meets your needs.
Why StoryBrand Makes a Difference
The StoryBrand framework is the structure that successful brand stories are built upon. People connect with stories on an emotional level, and that emotional connection transforms an interested audience into customers.
Filling out your StoryBrand framework with the characters, backdrop, and plot of your business's story allows you to tell compelling stories in your brand messaging. Once you incorporate that story into an effective marketing campaign, you'll be capturing your consumer's attention with engaging and driven content in no time.
Luckily, you don't have to take time away from your business to get StoryBrand certified. You can partner with a StoryBrand Guide to take care of the marketing transformation for you.
StoryBrand Freelancer vs. StoryBrand Agency
A StoryBrand Guide is the catchall term for a StoryBrand Freelancer or StoryBrand Agency who has been certified in the design and application of the StoryBrand framework. If you've decided that a StoryBrand Guide is the right partner for you, your next step is to decide what type of partner you're looking for.
The main difference between a StoryBrand Freelancer and a StoryBrand Agency is that a StoryBrand Freelancer is one individual who has received StoryBrand certification, while a StoryBrand Agency is a whole team that has received StoryBrand certification.
Here are a few things to consider when choosing the partner that's right for you.
StoryBrand Freelancer
If you have specific marketing needs and know exactly what you want, a StoryBrand Freelancer may be the perfect partner for you. You can find copywriters, sales funnel creators, web developers, and more. Each of these experts is certified as a StoryBrand Guide, and can fill a specific niche in your marketing needs.
If you don't need a full suite of marketing strategies and tools, a StoryBrand Freelancer can be the perfect partner to strengthen your marketing efforts.
StoryBrand Freelancers can also be helpful for smaller businesses, or businesses that are starting out. They can build you a plan for success as you grow your business.
StoryBrand Agency
If you want to rework your existing brand, create comprehensive linked content and marketing, or completely transform your marketing strategy, partnering with a StoryBrand Agency is the choice for you.
A StoryBrand Agency can offer you the full suite of marketing agency services, all organized and directed under the StoryBrand framework. Everything from lead magnets to web development to social media and email marketing can all be found under one roof.
StoryBrand Agencies are ideal for medium or large businesses looking to make a change for the better. If your company doesn't have the time to implement the strategies that a StoryBrand Freelancer suggests, a StoryBrand Agency can effectively implement those strategies for you.
How to Find Your StoryBrand Partner
Once you've decided on what you want in a StoryBrand partner, you need to decide who to partner with. Luckily, looking at your options is as easy as going to the Marketing Made Simple website, where you can search for the StoryBrand partner that meets your needs.
You can filter results for industry specialties, marketing services, and agencies to find exactly what you're looking for. You can also use the keyword filter to look for StoryBrand partners who mention your business category in their bio. For instance, if you're a college looking to revamp your enrollment strategies, you can search for partners with experience in college StoryBrand marketing.
Once you click on a potential partner's icon, you can see what skills they offer, their areas of focus, and testimonials from past clients. For example, Greenstone Media's page shows the marketing services that we offer, an extensive portfolio of past projects for you to look through, and an easy way to contact us for more information.
Greenstone Media is Here to Be Your StoryBrand Agency
Your business has a compelling story to tell your customers, and a StoryBrand Guide can help you uncover it. Certified as a StoryBrand Agency since 2019 (with some team members who have been Certified Guides for longer), Greenstone Media takes pride in knowing the StoryBrand framework inside and out.
We're ready to put our team to work transforming your marketing strategy with the full suite of marketing tools that we offer. If you're ready to start the conversation about what we can do for you, reach out to us today!