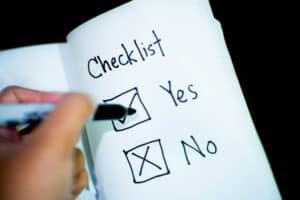 The hardest part about reaching more customers is getting their attention in the first place. Lead generators are the first step in expanding your customer base because they provide a low-barrier way for you to get their contact information.
By keeping lead generators easy and approachable for customers to act on, you can collect contact information and start sending nurture emails to transform them into a customer.
1. The Checklist
Customers trust a helping hand, and extending that hand in the form of a useful checklist can encourage your audience to become a customer. If you run a hardware store, a checklist covering the ten essential tools for DIY repairs can set your customers up for DIY success, and encourage them to come to you if they're missing a piece.
To use a checklist effectively, you can add it as a popup on your site and link to it in emails. These are also great to use in social media posts to drive interest and engagement with your site.
2. The eBook
An eBook is a collection of valuable information and advice, like an in-depth form of the checklist. This is a place to demonstrate your expertise in your field, build trust with the customer, and convince them that you are the best possible business to solve their problems.
You can link an eBook to your website home page, relevant blog posts, and paid social media ads. Providing an email address in exchange for the useful insights of an eBook is an easy low-commitment choice for the potential customer.
3. The Webinar
Webinars are great opportunities to demonstrate your product, explain how your service works, and provide useful advice. You can help your potential customers see your business as an organization of passionate and trustworthy people ready to help.
You can promote webinars as exciting upcoming events in emails, on social media, and in blog posts. Once people can put a face to your business, they'll be more likely pay attention to future nurture emails because they know the people behind them.
Ready to Take Your Leads to the Next Level?
Greenstone Media is here to help you reach inbound marketing success. We'll design the perfect plan to transform your audience into future customers, starting at the beginning with lead generation.
Download our sales funnel eBook here for more helpful advice, or check out our blog for more quick tips!